The Software for Color Gemstones You Can Trust
Control your inventory and increase your sales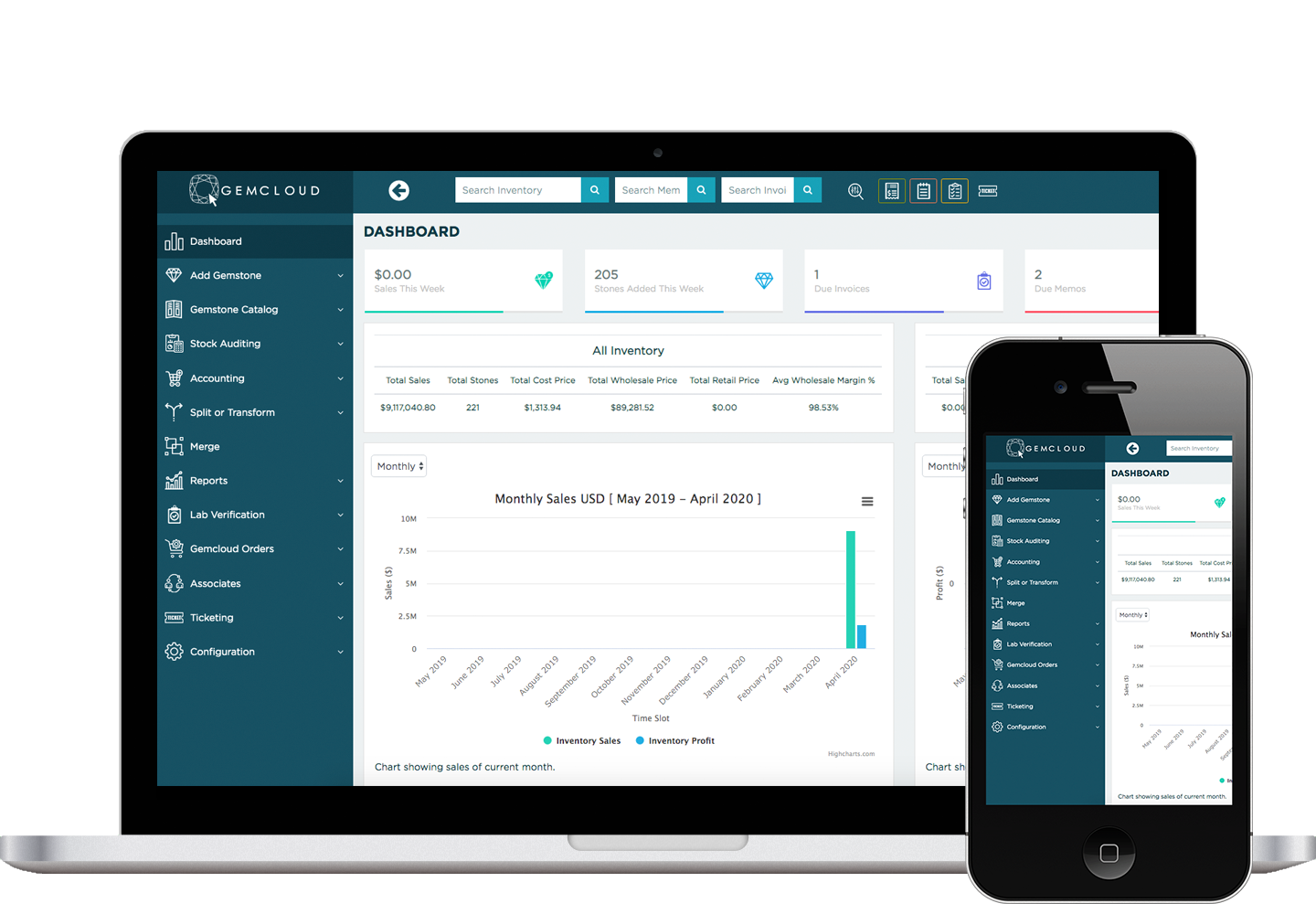 Accessing your inventory is simpler than ever! GC is accessible from any device, anywhere and 24/7.
GemCloud replaces long and burdensome manual processes, reduces lead time increasing your chances to convert a sale.
GemCloud is the newest generation of ERP, designed with fresh and modern visuals and intuitive icons and with simple "click" operations.
With google like search functions GemCloud allows you to make sure you have the right inventory to satisfy your clients as well as receive insightful reports on your sales.
GemCloud is your launchpad to a global network of distributors – sync your inventory into global marketplaces.
Your business in a dashboard
You can quickly monitor your sales, value your stock, and save time that you can dedicate to growing your business.
What Our Customers Are Saying
Manage a quick and easy process of checking in new stock, barcoding, and easily tracking it. You will have secure and easy access to your customers, your suppliers and your stock movements while automatically receiving reminders about payments and deadlines.
Automatic label creation and
easy access with barcode
scanning.
Split, Transform
and Merge
Split, transform and merge
parcels/single gemstones and keep track of historical records.
Customer and
Supplier Management
Keep historical data of each transaction with customers, suppliers and partners. Automatic alerts for due payments and
memos.
Easily audit your inventory status from your office, while on a sales trip, or during a gem show.
Import inventory into the system from a spreadsheet.
Image, MP4 Video,
360 video
Attach photos and videos to your inventory or let one of our partner Laboratories do it for you.
Quickly search stock using advanced filters  – as easy as a google search.  This will save you valuable time while you are in front of customers.
Integrate
with Laboratories
Easily send gemstones to integrated partner laboratories and automatically receive photos  videos and certificates straight into the platform.
GemCloud signature features will help you boost sales, move your stock faster and gain global visibility. You will cut your travelling costs and you won't need to wait for the next gem show. GemCloud will help you stay in touch with your clients and show your new stock in real time.
Share Interactive
Quotations in Just a few Clicks
Create a list of gemstones matching customer requirements and generate temporary interactive quotations.
Sync in Real Time
With Marketplaces
GemCloud multiplies your selling network by giving you the option to sync inventory with a global marketplace. Sell while you sleep.
Set up different prices for different types of clients.
GemCloud gives you an overview of your finances in real time so you know exactly how much money you are making on every transaction. You will be able to quickly and easily create invoices with your logo and get automatic payment reminders.
Memos, Quotations
and Invoices
Issue quotations and invoices semi automatically in a professional format with just a few clicks.
Track who owes you money in real time.
Automatic reminders for due memos and payments will remind you to act.
Visible from any device, GemCloud provides you with a visual overview of your entire business. You will never again be caught off guard.
Your business in a dashboard, gain insight on your margins and  your costs.
Auto analyze data about your gross margins giving you great decision-making tools.
GemCloud allows you to set up different levels of access  by different users.
GemCloud protects your privacy. Using  dual factor authentication and hash database encryption you can be reassured that your confidential information is visible only to you and to your select team members.
Multi-user with
different access level
GemCloud allows you to set up different level of information's accessibility by different users.
Multi-Layer of
access control
Secure login with dual factor authentication with device IP registration.
All your sensitive data are protected using the highest level of encryption AES-256 bit hash encryption. 
Sign Up AND RECEIVE THE FIRST 30 DAYS TRIAL FOR FREE
We guarantee you that this will change your entire business.
*Price is US 40/m for each additional user
GemCloud is a software company developing products specifically tailored for the colored gemstone industry.
GemCloud was founded by a group of Gemstone experts from all areas of the industry in partnership with the creators of one of the world's leading jewelry manufacturing systems. We hope to transform the industry by creating so much value for each of our vendors that their businesses basically run themselves.
Gemcloud's Enterprise Resource Planning software revolutionizes the management of colored gemstone inventory for gemstone producers and traders. The platform makes managing stock extremely easy and allows vendors to automate many operations most tedious functions. Traders can discover brand new insights into their inventory and their business such as real time margin calculations on sales and pricing.
1249/116 Gems Tower, 10th Floor, Charoenkrung Road, Bangrak, Bangkok 10500 Thailand
Tel: +66 61 421 5993 (GMT +7)
39 Greville Street, London EC1N 8PJ, United Kingdom
Tel: +44 7967 385 449 (GMT +1)
Tel: +66 61 421 5993 (GMT+7)
Tel: +44 20 75 72 1200 (GMT+1)
Grow your business to the next level